Personal Touch Landscaping, LLC is a preferred Kansas City Landscaping company that provides consultation, design, installation and maintenance for residential and commercial customers. We are committed to exceptional service, expert knowledge, and professional landscape installation of all products and services that we offer.
By staying current with the latest landscaping products and installation guidelines, we bring expertise to the field, ensuring you will receive quality workmanship and a landscape you will enjoy for years to come. Reputation is our focus, and we strive to make our customers, our customers for life.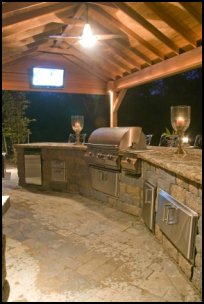 We are Brian and Brenda Chapman, the owners of Personal Touch Landscaping, LLC. Thank you for visiting our website. We are a family owned and operated business, located in Smithville, MO. since 1997, that provides landscaping in Kansas City, and the surrounding metro area. We chose Personal Touch as our name because we offer a unique and personalized service to our customers that not many other landscaping companies can claim. Not only do we do the consulting, estimating and designing, we also are at each jobsite with a shovel in hand doing the work as well. We have consciously remained a smaller landscaping company so that we can continue to offer a friendly, personalized and economic service to you, done with a "Personal Touch".
NO JOB TOO BIG, NO JOB TOO SMALL !!!
personaltouchlandscaping@hotmail.com
816 - 532 - 3318
Licensed and Insured